Sarnia Hood Vent Cleaning
The purpose of deep cleaning a kitchen hood vent, especially in a commercial environment, is to remove grease, oil and other possible contaminants that find their way into an air ventilation system over time. Sarnia Hood Vent Cleaning happens to be the expert when it comes to cleaning the kitchen hood vent. Our years of experience in this field have enabled us to provide our clients with guaranteed cleaning services every time.
Deep Cleaning – We handle the deep cleaning that guarantees the safety of your vents. Our technicians use heavy-duty equipment and eco-friendly, non-toxic chemicals to ensure that all areas are cleaned thoroughly.
Maintenance – We also offer services to help you regularly keep your kitchen hood vent clean and safe. This helps avoid costly and time-consuming repairs in the future.
Inspection and Repair – If your kitchen hood vent needs to be inspected or repaired, we'll do that, too! Our technicians are equipped with the tools and knowledge to diagnose any potential problems and repair them promptly.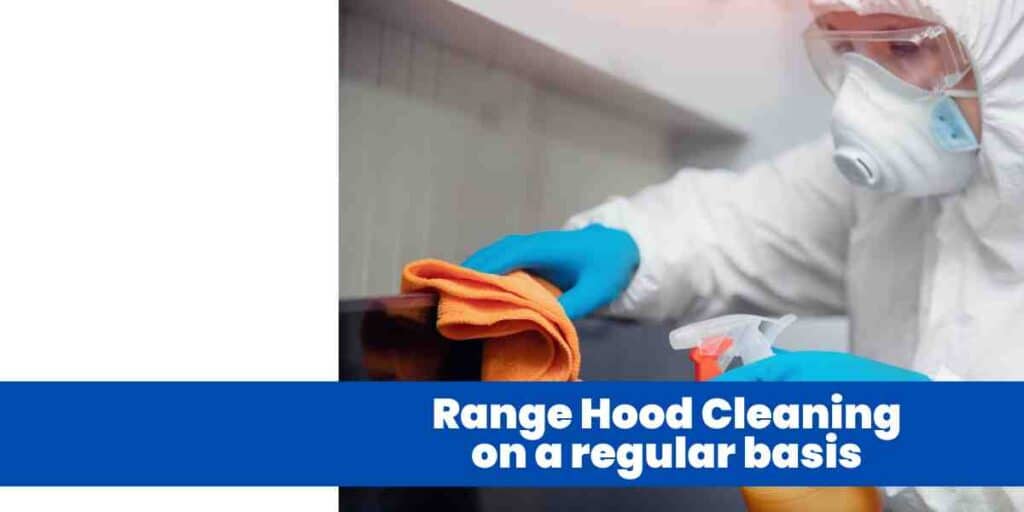 sarnia hood cleaning services
Request a Estimate
Get your free written hood cleaning or kitchen
exhaust cleaning estimate today.
Tap to request estimate
Cleaning Hood Vent Filters in Sarnia
Filters on your kitchen hood vent don't get the attention they're supposed to get. Grease and dust can build up quickly, clogging the filter, hindering efficiency and increasing the likelihood of a fire.
Tap to Call Now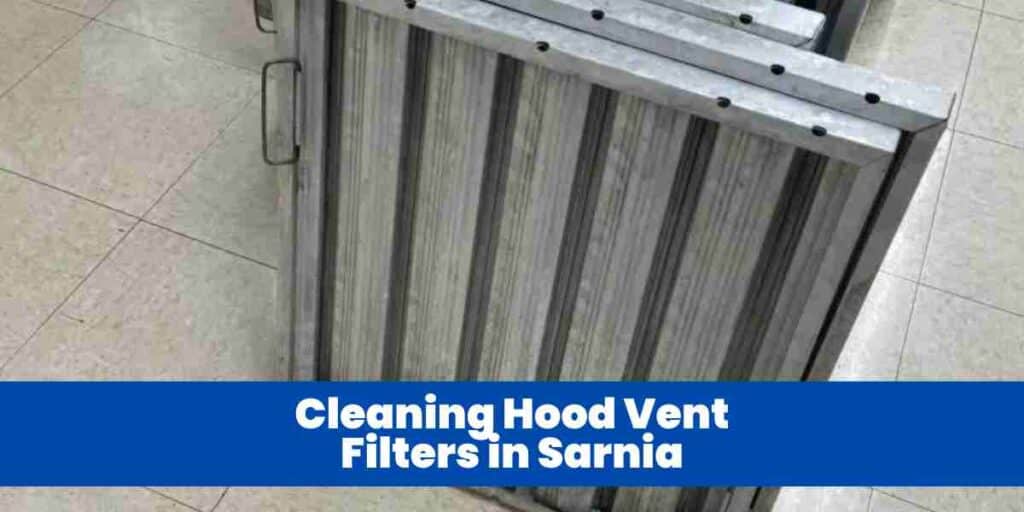 But if you hire Sarnia Hood Cleaning today, we'll prioritize ensuring your filters are kept in tip-top condition. We'll clean and inspect them as regular maintenance and replace them when necessary.
Vent Hood Filter Cleaning
Cleaning the vent hood filter the professional way is a three-step process:
1. Remove the filter from the vent hood and pre-soak it in hot, soapy water to loosen the grease buildup.
2. Scrub all the grease and dirt with a soft brush or sponge; use a non-abrasive cleaning solution if needed.
3. Rinse off soap residue with warm water and dry the filter with a dedicated cloth.
Once done, always inspect the filters for damage before placing them back in their respective locations.
Choose Sarnia Hood Vent Cleaning for vent hood filter cleaning, so you never have to worry about inadequate ventilation or buildup of grease, oil and other contaminants.
Request an Estimate [Tap Here]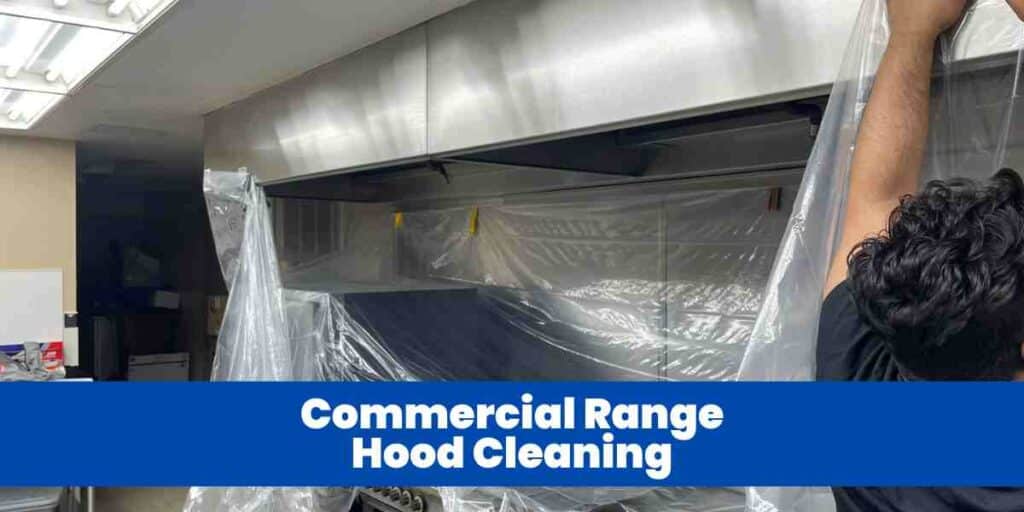 Hood Vent
A restaurant hood vent could be a fire hazard because it removes heat, smoke, and grease from the kitchen. The excess grease can create a potential fire hazard if the vent becomes clogged or the filters are not cleaned regularly.
Tap to Call Now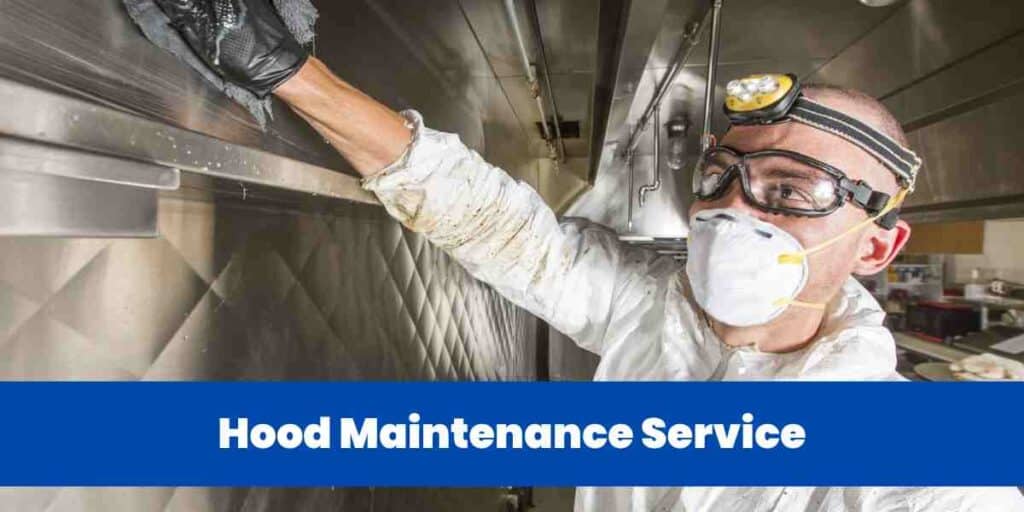 Furthermore, if the hood vent or ductwork is not adequately installed and cared for, it can easily become a source of ignition that could lead to an uncontrollable fire.
To prevent this, it is important for restaurants to clean their hood vents and ductwork regularly and to have them inspected by Sarnia Hood Cleaning to ensure they are functioning properly.
Restaurant Vent Hood Cleaning Near Me
At Sarnia Hood Vent Cleaning, we understand how chaotic restaurant kitchens can be.
So, our staff offers professional cleaning services to keep the exhaust and ventilation systems in restaurants around the area safe.
Let us use our state-of-the-art equipment to maintain a safe, clean, and efficient kitchen on your behalf.
Request an Estimate [Tap Here]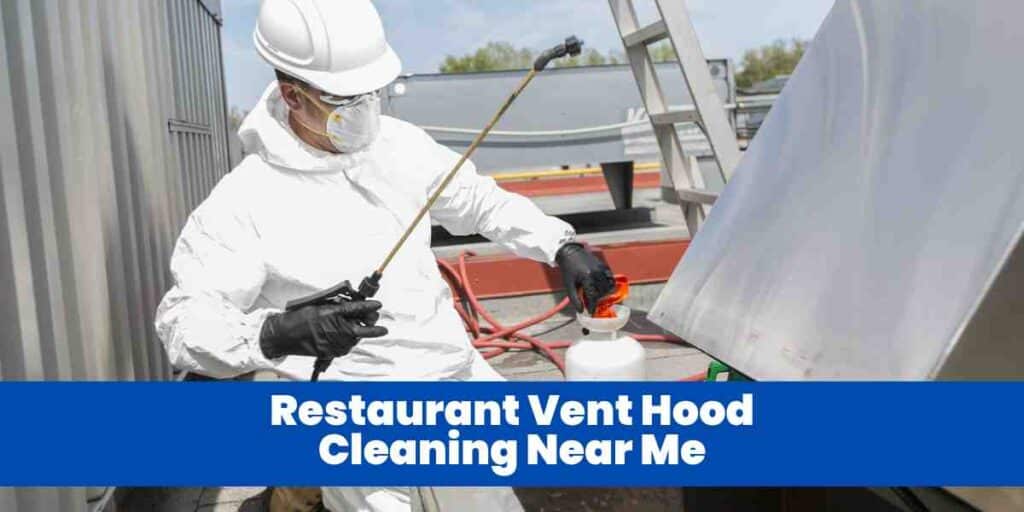 Vent Hood Cleaning Prices in Sarnia
Cleaning vent hoods in Sarnia is our forte, and the cost of having one should be the least of your concerns. We're Ontario's most competitive hood vent service, keeping prices affordable and services consistent.
We work on a flat fee, so you know exactly what amount you're paying for each job. Contact us today to get your free estimate!
Tap to Call Now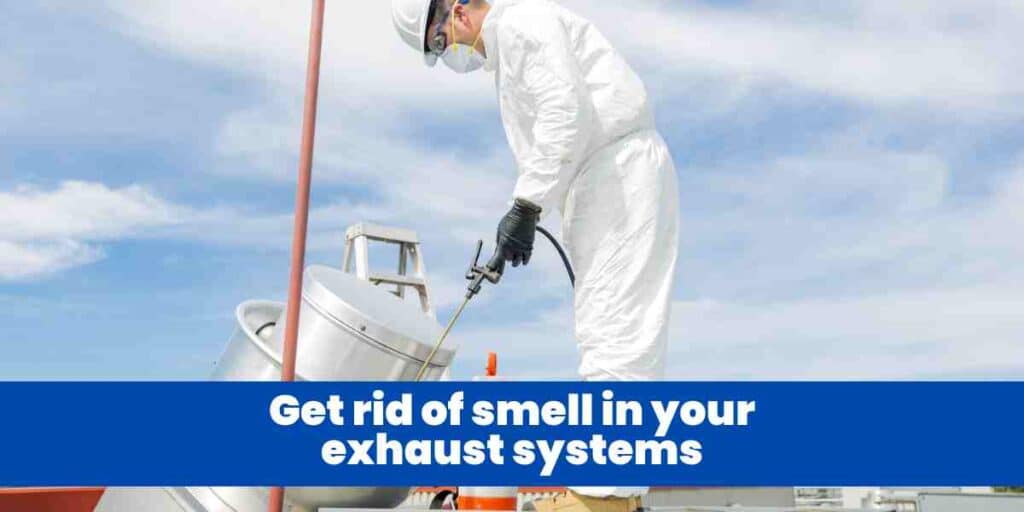 Vent Hood Cleaning Services
• Grease removal and disposal
• Cleaning of ductwork and fan blades
• Replacement of air filters
• Inspection for defects or damage
We'll provide a detailed report at the end of each service to ensure that your vent hood qualifies as "safe to use" under NFPA 96 standards.
We strive for 100% customer satisfaction, so we'll go the extra mile if needed. Our team is ready and willing to repair or provide additional services if our technicians recommend them. Contact us today for more information!
Request an Estimate [Tap Here]
Sarnia Hood Cleaning's vent hood maintenance integrates precision cleaning and efficient maintenance. Our team of certified technicians can provide you with all the necessary services, including: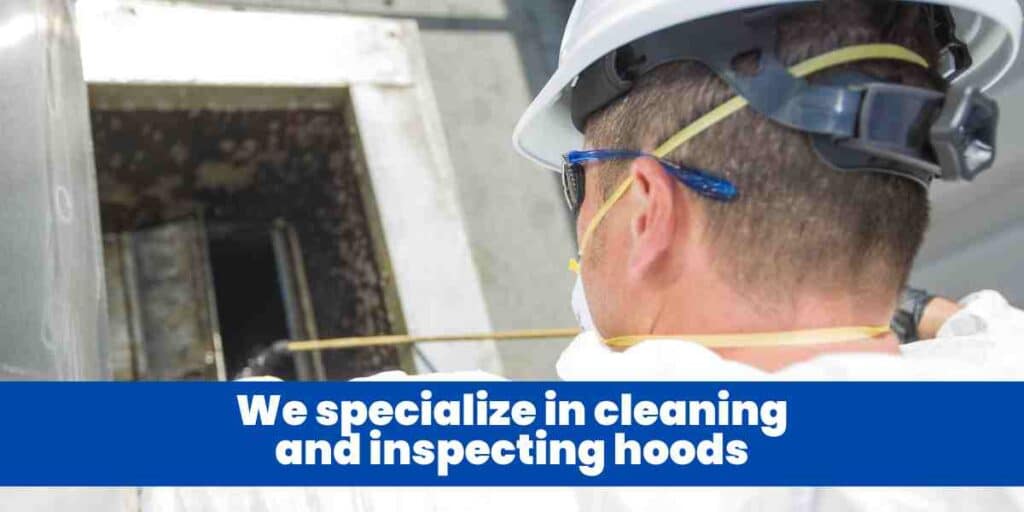 Air Ducts
Air ducts are the networks of air passages that run through and around your house. As dust, dirt, and other debris builds up in the air ducts over time, it can produce a variety of problems, such as poor indoor air quality, uncomfortable temperatures, and increased energy costs.
Sarnia Hood Cleaning offers air duct cleaning services to help you reduce the effects of buildup and extend the life of your HVAC system.
Tap to Call Now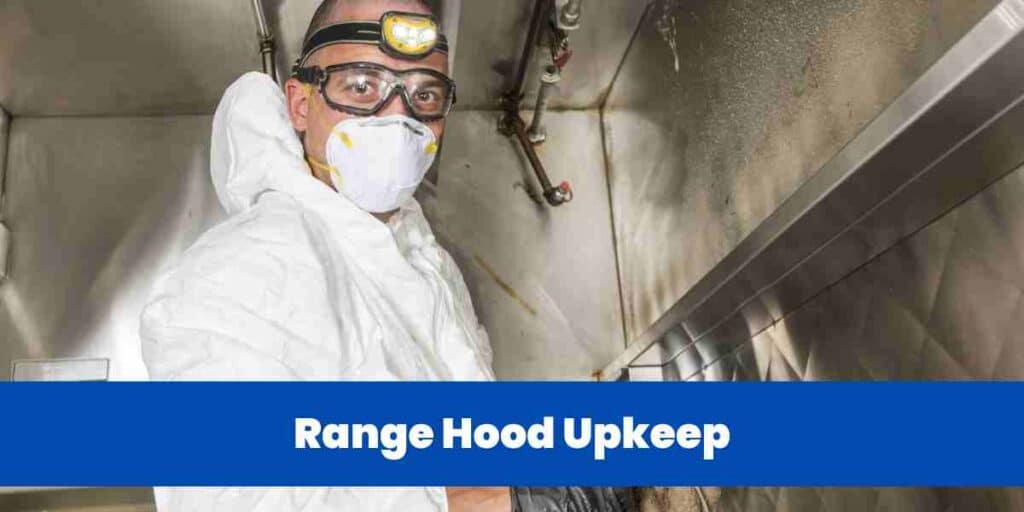 Range Hood
Range hoods are essential to a kitchen but require regular cleaning and maintenance to keep them functioning properly. Grease and other debris can easily build up in the filters, fan blades, and ductwork, creating potential fire hazards.
At Sarnia Hood Cleaning, we aim to shield your business from the danger of a kitchen fire.
We provide an extensive array of hood cleaning services that ensure all parts – including hoods, filters, and ductwork – are free of buildup for optimal performance. When you choose us as your provider, you have peace of mind knowing that safety has been taken care of!
Request an Estimate [Tap Here]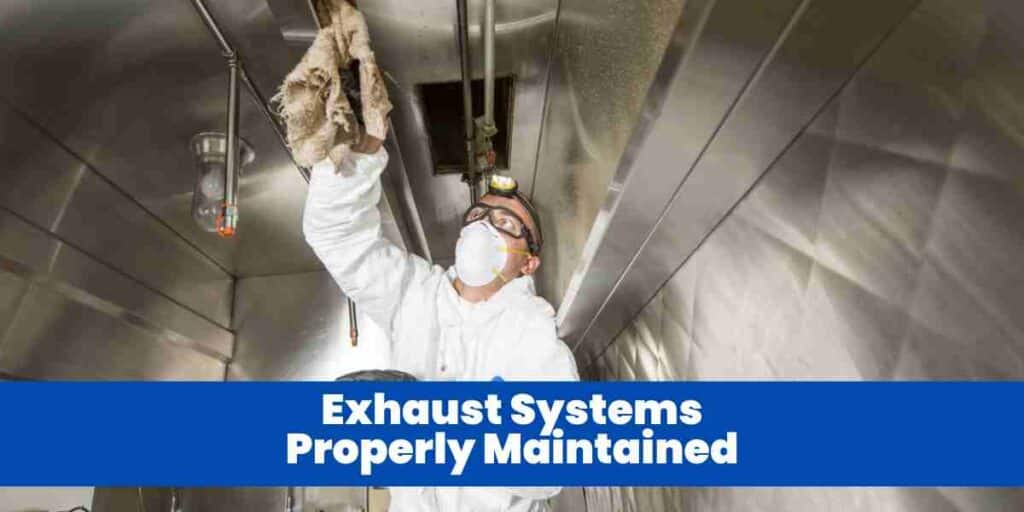 Duct Cleaning
Duct cleaning removes contaminants, dust, and debris from air ducts that can lower air quality. We use modern equipment to clean your ducts as thoroughly as possible, restoring air quality to its optimal level.
Our services also aim to prevent future buildup or any other hazards due to a dirty duct system.
Tap to Call Now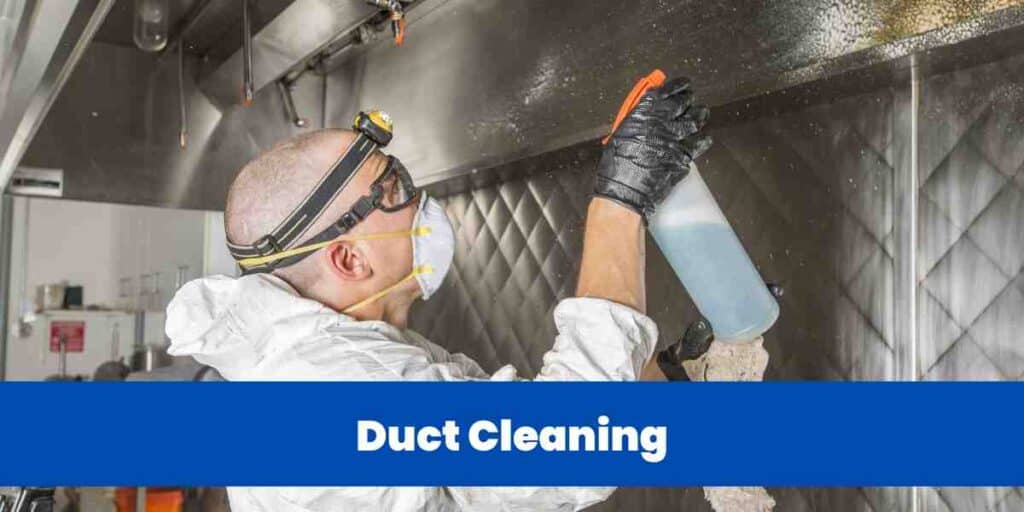 Sarnia Hood Vent Cleaning Service
Our services are the perfect solution for restaurant owners looking to improve their indoor air quality. You'll benefit from expert hood cleaning since our technicians are highly trained and certified. You need the pros because:
• We utilize cutting-edge cleaning and maintenance tools to guarantee the best outcome.
• Our certified technicians abide by NFPA 96 standards to ensure safety in your kitchen.
• We offer our services competitively so you can get quality without spending much on maintenance.
Reach out to us – we'll be there to keep your kitchen safe and clean!
Request an Estimate [Tap Here]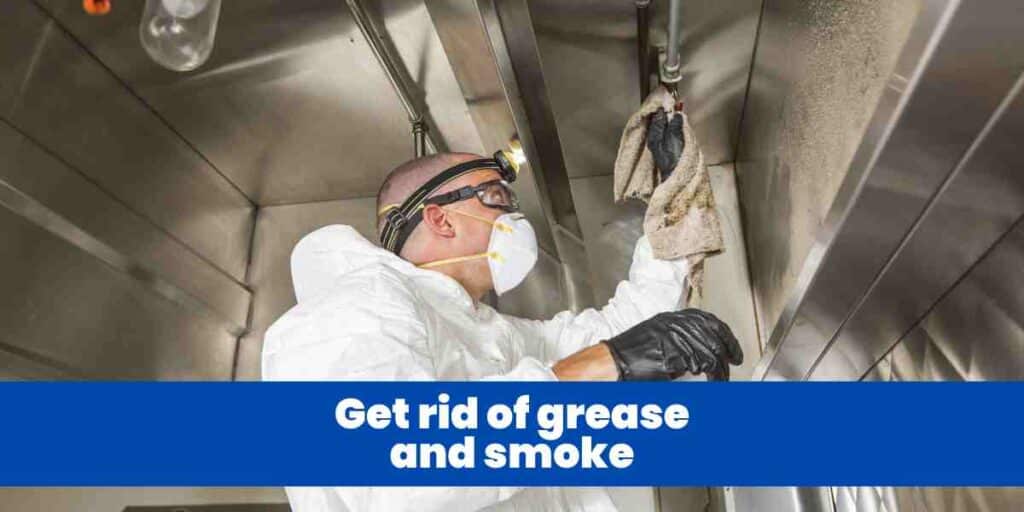 Professional Hood Vent Cleaning in Sarnia
For the most satisfying hood vent cleaning experience, hire Sarnia Hood Cleaning. Our team of certified technicians can provide you with exceptional services at an unbeatable price.
We also offer cleaning and maintenance packages for your kitchen exhaust system, so you no longer have to worry about fire hazards or poor air quality.
We want our clients to get value for their money, so don't hesitate to give us a call!
Tap to Call Now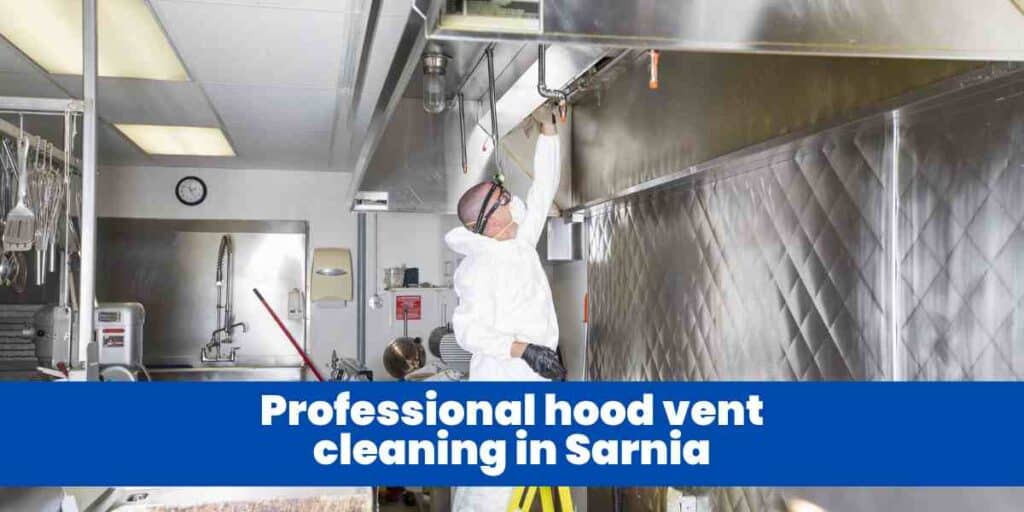 Commercial Kitchen Hood Vent Cleaning Sarnia
The success of your business is dependent upon the cleanliness and safety compliance of your commercial kitchen.
Sarnia Hood Cleaning offers professional, reliable hood vent cleaning services to ensure your kitchen remains fire hazard-free while meeting all necessary regulations.
Make sure you have a safe environment for customers and employees by partnering with us today!
Request an Estimate [Tap Here]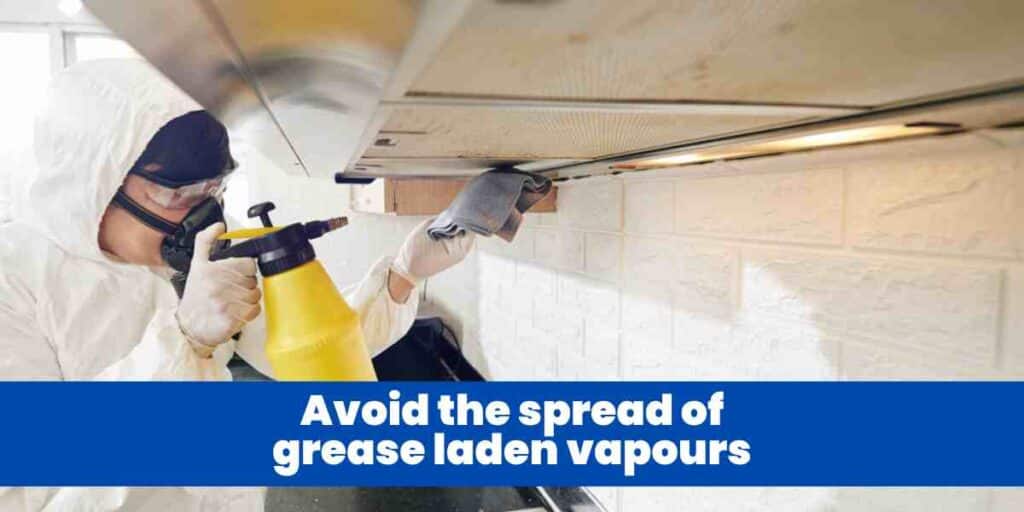 Restaurant Hood Vent Cleaning Sarnia
Having a restaurant means having specific needs in terms of maintenance and cleanliness. At Sarnia Hood Cleaning, we understand those needs, which is why we're delivering Ontario's most dependable kitchen exhaust cleaning services.
Our commitment is to uphold your restaurant's highest cleanliness and safety standards. With our certified technicians, we're confident we've covered everything – from your hoods, filters, and ducts to any other exhaust system component.
Call us for a free quote!
Tap to Call Now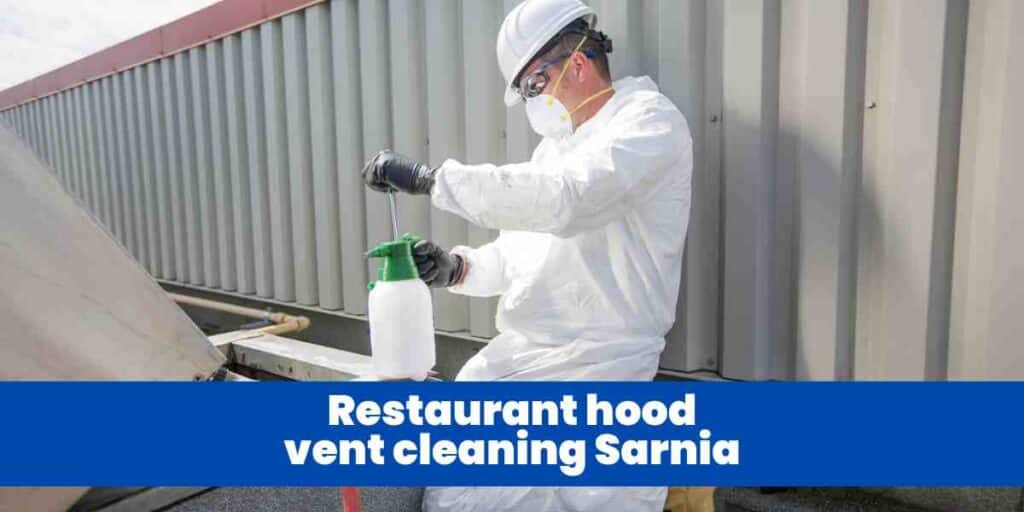 Sarnia Hood Vent Cleaning for Businesses
Keeping your kitchen clean and safe is a must for every business. Make sure you choose the best service provider for those needs – Sarnia Hood Cleaning!
Our years of experience are what sets us apart from the rest. We acknowledge that your business requires more than just the basics, so we always exceed expectations with our services.
Request an Estimate [Tap Here]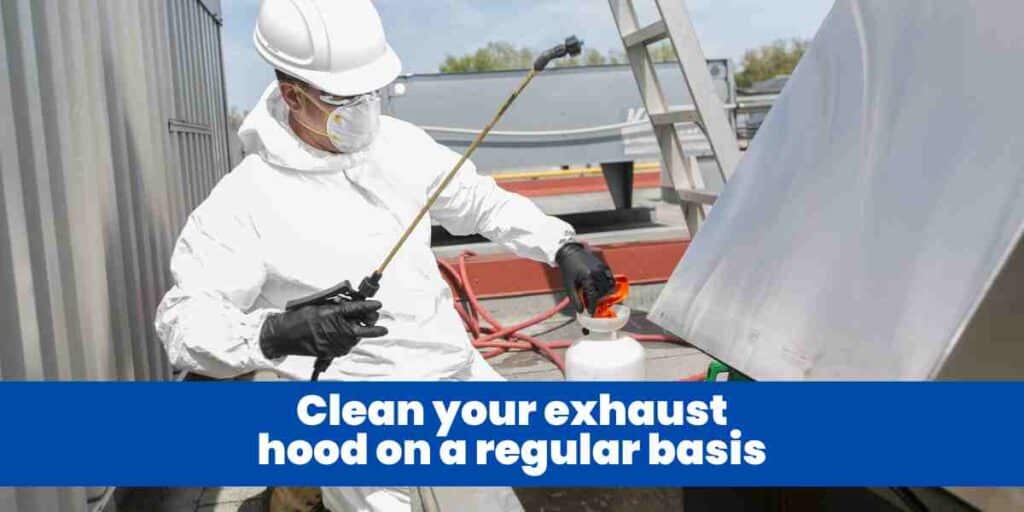 Vent Cleaning
The vents keep the kitchen from becoming a grease-filled, fire-hazard mess. But they, too, need regular maintenance and cleaning.
We'll ensure your vents don't hold onto grease, dust, and dirt buildup.
Our professional services include cleaning, degreasing, and sanitizing ducts, hoods, fans, and filters to ensure your facility is safe for staff and customers.
Tap to Call Now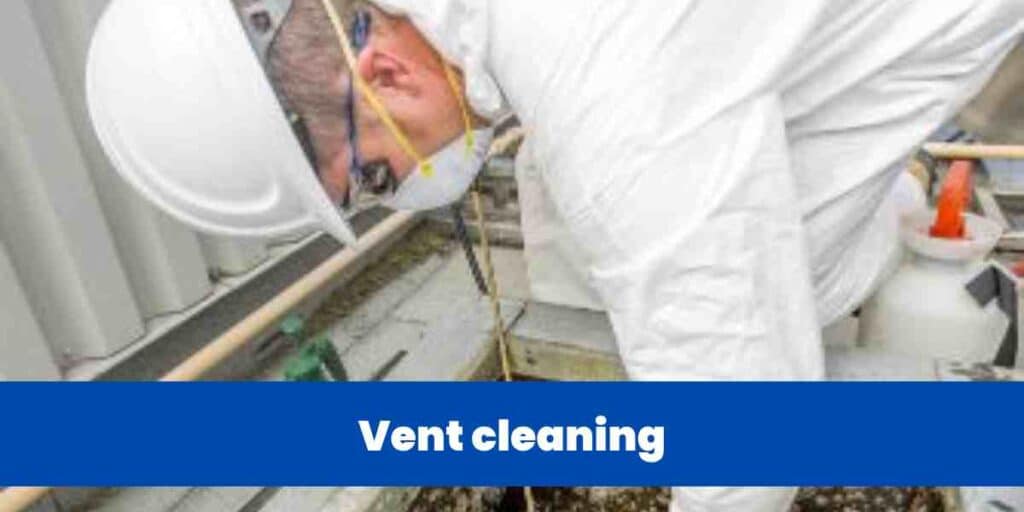 Hood Vent Maintenance
At Sarnia Hood Cleaning, we believe that prevention is the best form of protection – which is why our hood vent maintenance services include comprehensive check-ups and regular cleaning.
This way, you can feel confident nothing dangerous lies within your commercial kitchen's bounds.
We'll inspect your hoods, filters and ducts for any signs of damage or wear. We'll clean them to prevent future hazards from occurring.
Request an Estimate [Tap Here]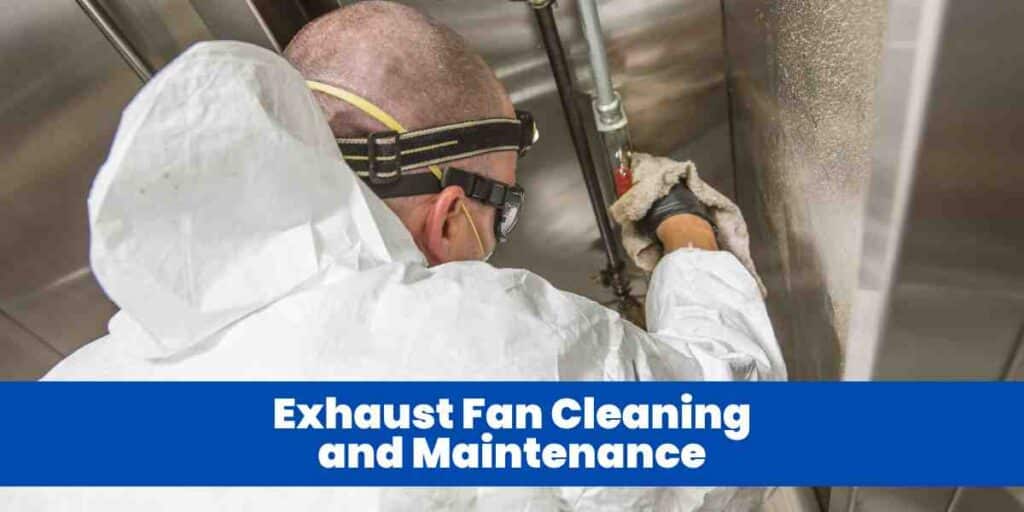 Kitchen Vent Cleaning
The best thing about our kitchen vent cleaning program is that we tailor it to your needs. We come to your food establishment, see its challenges, and act accordingly. Our certified technicians inspect your kitchen exhaust system and ensure it's ready for use – all in one visit!
Call us today to learn more about our hood vent cleaning services and maintenance programs.
Tap to Call Now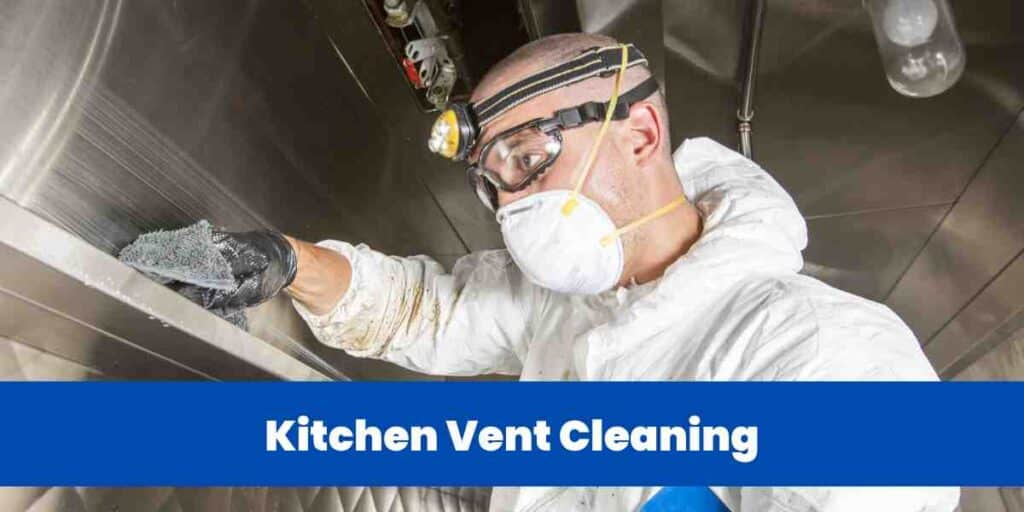 Exhaust Vent Cleaning
The focal point of any kitchen exhaust system is the vent. It collects and discharges hot air from your commercial kitchen space.
Sarnia Hood Cleaning will help you keep this part of your kitchen safe and clean with our professional exhaust vent cleaning services.
We know how to ensure your exhaust vents work properly while meeting fire safety codes.
Request an Estimate [Tap Here]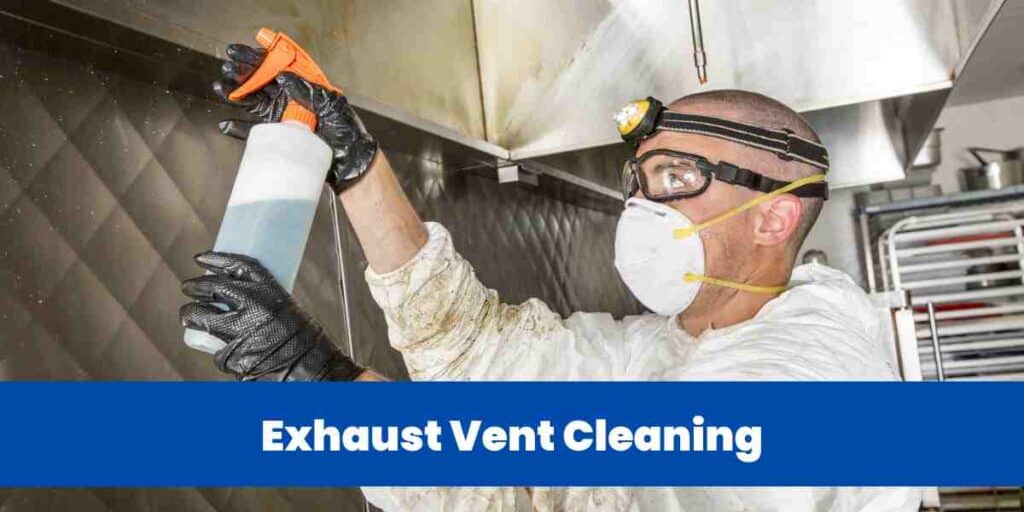 Commercial Vent Cleaning
At Sarnia Hood Cleaning, we always go the extra mile to ensure our services meet your expectations. Our commercial vent cleaning solutions consider both the safety of your staff and customers and keep things in line with fire code standards.
Let us showcase our expertise – that's all we ask, and it's for your benefit. Partner with us today and ensure your kitchen exhaust system is clean, safe, and up to standard!
Tap to Call Now